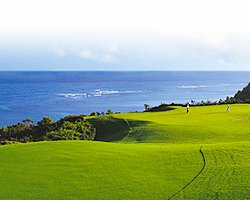 The Princeville Resort is home to the multi-award-winning Kaua'i golf courses.
Designed by Robert Trent Jones, Jr., who brilliantly integrated the wild beauty of the north shore of Kauai. Taking advantage of wilderness areas, natural water features and the dramatic coastline, the courses wind their way through magnificent stands of trees and rolling landscape and views that will astonish you with their unforgettable beauty.
Even if you don't play golf, it would be more than worth your while to rent some clubs and shoes and no doubt have the time of your life. But do bring a camera, because you could use up an entire memory chip or video taking shots all over the amazing course.
It's been said that even if it's raining, golfers will still go out on the course and if they lose a ball, they don't really care. The experience of playing here is so fantastic and memorable, what's a drop of rain or two or some lost balls?